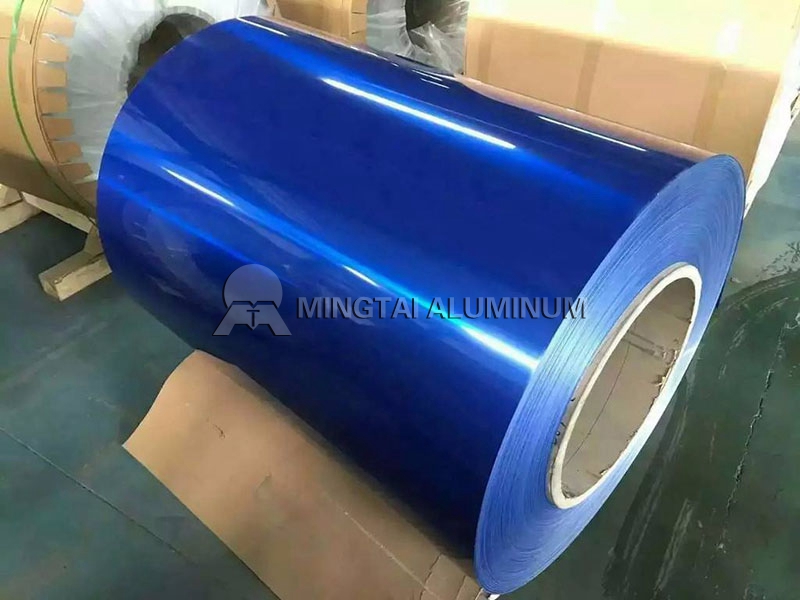 Color coated aluminum coil in Europe
Loading Port: Tianjin/Qingdao, China
Sample: A4 Sized
Payment Terms: L/C,D/P,T/T
Delivery time: Within 15-30 Days
Email Us:sales01@mingtai-al.com
Contact Us
---
Color coated aluminum coil
Color coated aluminum coil refers to the coating and coloring treatment of aluminum coil, which generally includes PE coated aluminum coil and PVDF coated aluminum coil. It is a new type of material that is very popular at present. It is environmentally friendly, resistant to corrosion by salt-alkali and acid rain, does not corrode itself to produce toxins, does not release any toxic gas, does not cause corrosion of the keel and fixed parts, and is flame-retardant. Color coated aluminum coil has a rich color range, whether it is a residential house, a large commercial network or a large exhibition center, it can add color to it. Good plasticity and mechanical processing properties make it an ideal material for various architectural shapes.
Color coated aluminum coil has a wide range of applications: construction (aluminum composite panel, aluminum honeycomb, roof corrugated board, fireproof veneer, aluminum ceiling, blinds, rolling door, garage door, awning, falling gutter), electronic appliances (computer case) , Electrical panels), lighting, furniture, solar reflectors, air-conditioning ducts, etc.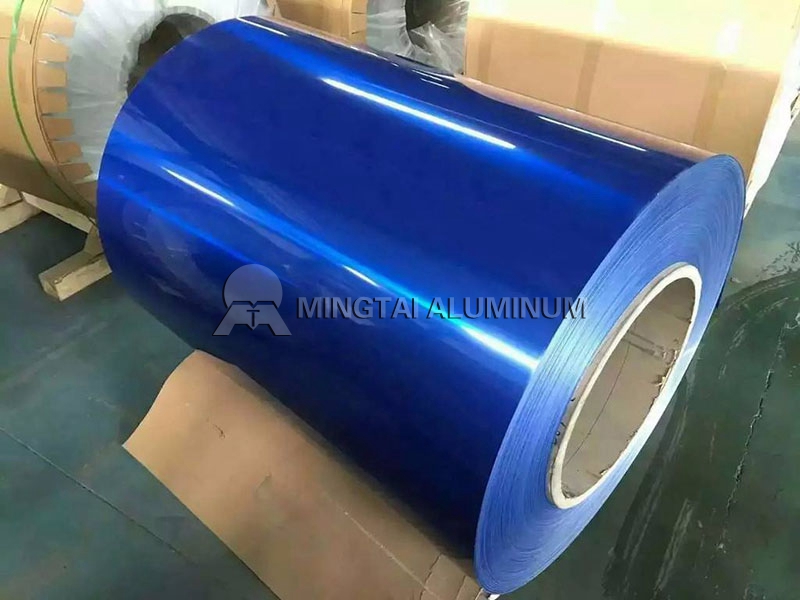 Color coated aluminum coil specification
Alloy grade: 1100, 3003, 3004, 3105, 5006, 5052, 8011, etc;
Temper: H42, H44, H46, H48;
Thickness: 0.08-4.0mm;
Width: <1800mm;
Coils core diameter: 150mm ,405mm, 505mm, 508mm, 510mm;
Coating thickness: PVDF >=25micron, POLYESTER>=18micron;
Mingtai Aluminum is color coated aluminum coil manufacturer in China, we supply coated aluminum coil to global market, welcome to send inquiries any time!
Color coated aluminum coil advantage
1. Decorative: Color coated aluminum coil has a realistic sense of solid material and a vivid natural beauty, giving customers a wide range of individual choices and enriching the humanistic connotation of the product.
2. Mechanical properties: It has the required bending and flexural strength for decorative panels. In the four seasons, changes in humidity, wind pressure, temperature and other factors will not cause deformation.
3. Weather resistance: its gloss retention is high, the color difference changes very little, the color stability is good, and the warranty time is long.
Learn about other products: 3105 aluminum sheet coil