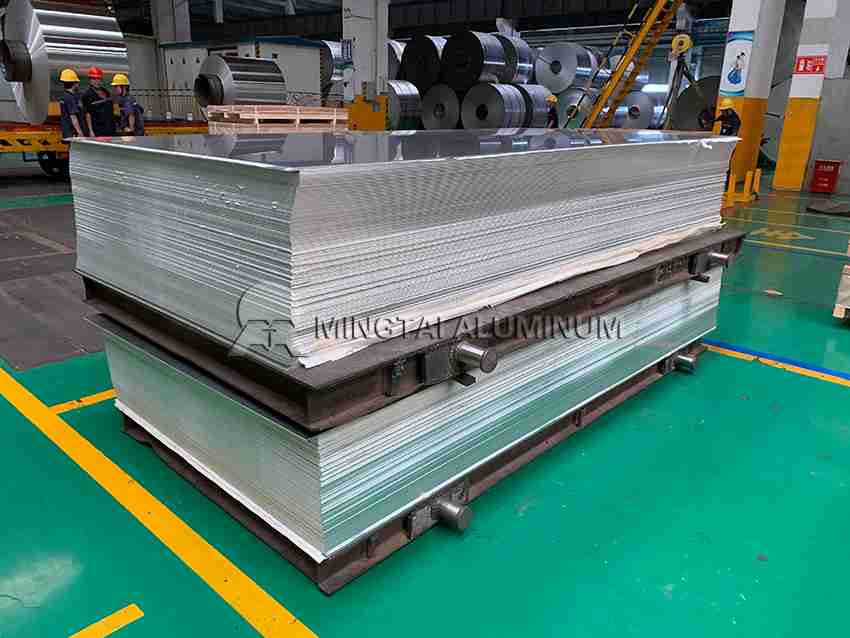 1mm Aluminium Sheet[1mm Aluminium Sheet Price]
Loading Port: Tianjin/Qingdao, China
Sample: A4 Sized
Payment Terms: L/C,D/P,T/T
Delivery time: Within 15-30 Days
Email Us:sales01@mingtai-al.com
Contact Us
---
1mm Aluminium Sheet Price
1mm aluminium sheet is common in 1-7 series alloy. Such as aluminium sheet 1mm thick 5052-H32 plate, and 6061-t6, 6063, 5251, 1050-H14, 3003, 7075 grade 1mm aluminum sheets, etc. Here, we offer the best 1mm aluminium sheet price from our factory direct selling. Besides, Mingtai aluminum sheet supplier also supplies 1mm/ 1.5mm/ 2mm/ 3mm/ 5mm/ 6mm/ 10mm/ 12mm/ 200mm aluminium plates available in various temper, types, surface patterns, and customizable specs such as 4' x 8', 5' x 10', 48''x 96'', 1250*2500mm for your choice !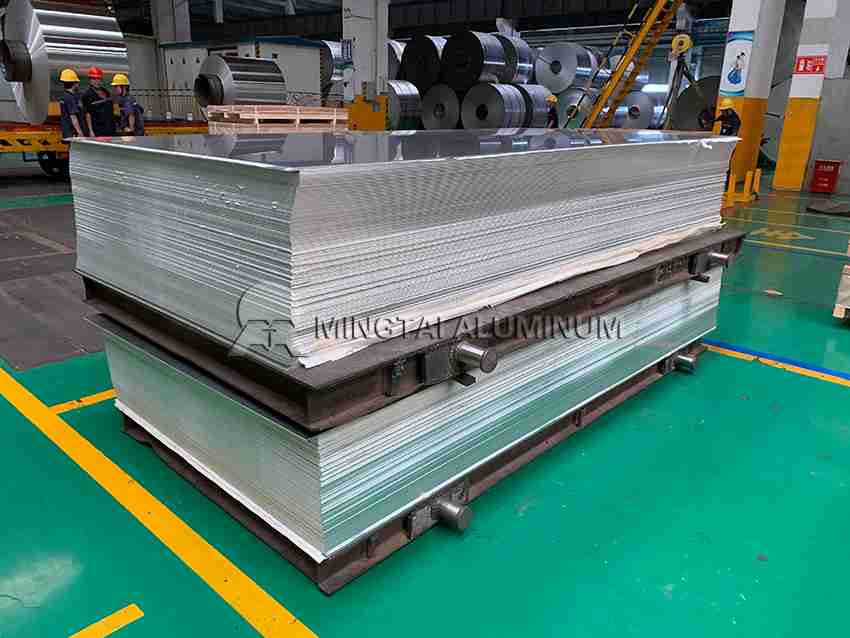 Aluminium Plate 1mm Aluminium 5052 Price 6061 t6 Price
Aluminium Sheet 1mm Thick Aluminium 5052 Price
Alloy Series: Typical 5000 series Al-Mg anti-rust alloy
Features: 5052 Al is regarded as marine aluminum. In fact, 5052 grade 1mm aluminium sheet has high fatigue strength, excellent corrosion resistance, machinability, formability, etc. So it's the prefect material of large marine diesel tanks, truck air brake tanks, gas tanks, and deck, steering room, side, porthole and other parts of the ship, as well as various aspects. In addition, the common are 5052 h32 aluminum sheet, 5052-h22, 5052-h34, 5052-O alloy plates.
Price: Actually, aluminium sheet 1mm thick aluminium 5052 price has more cost-effective than other grades alloy, due to its high performance and moderate price !
The mechanical properties of 5052 aluminum alloy
| | | | |
| --- | --- | --- | --- |
| Alloy Temper | Tensile strength  (MPa) |  Yield strength (MPa) | Elongation (%) |
| 5052-O/ H111 | 173-213 | min66 | min 15 |
| 5052-H32 or  5052-H22 | 214-262 | min159 | min 4 |
| 5052-H34 or  5052-H24 | 235-282 | min180 | min 3 |
| 5052-H36 or  5052-H26 | 256-303 | min200 | min 2 |
| 5052-H38 or  5052-H28 | min269 | min221 | min 2 |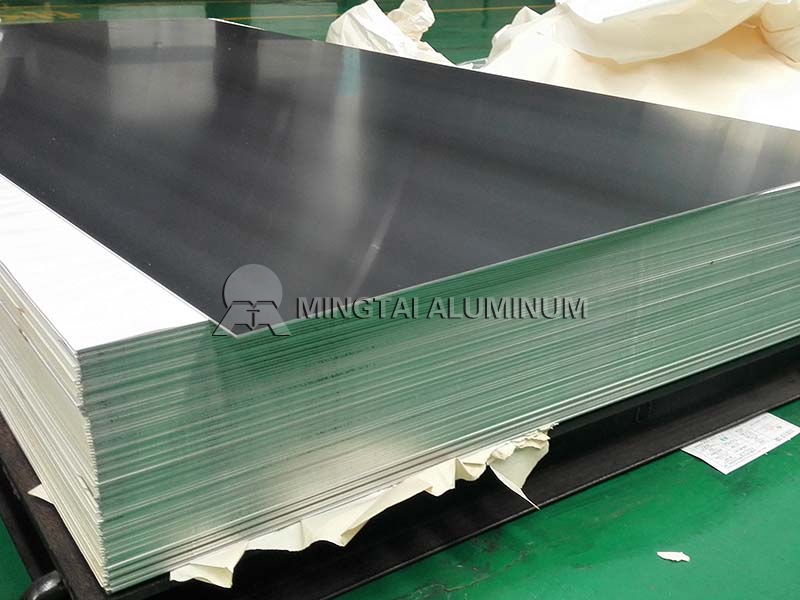 Aluminum Sheet 1mm Thick 6061 t6 Price
Alloy Series: 6000 series Al-Mg-Si alloy
Features: As we all known, aluminium sheet 1mm 6061 plate is famous for its outstanding weldability. In addition, it also shows high strength, toughness, good machinability, stampability, as well as excellent surface treatment, etc. Therefore, it's widely used for mold, sheet metal parts, auto parts, precision instruments, 3c products, etc. For example, the common are aluminum 6061-t6, 6061-t651 sheet plate, etc.
Price: Due to its high performance, so 6061 grade 1mm aluminium sheet price is slight higher than other alloys.
The mechanical & physical properties of 6061-t6 aluminum and 6061-t651 aluminum
Weldability
Machinability
Corrosion Resistance
Electrical conductivity
Density
20℃(68°F)(%IACS)
(20℃)(g/cm3)
Excellent
General
Good
40-50
2.7
Tensile strength
Yield strength
Hardness(HB)
Elongation
Maximum stress
(25℃ MPa)
(25℃ MPa)
500kg force 10mm ball
1.6mm(1/16in)thick
MPa
310
276
95
12%
205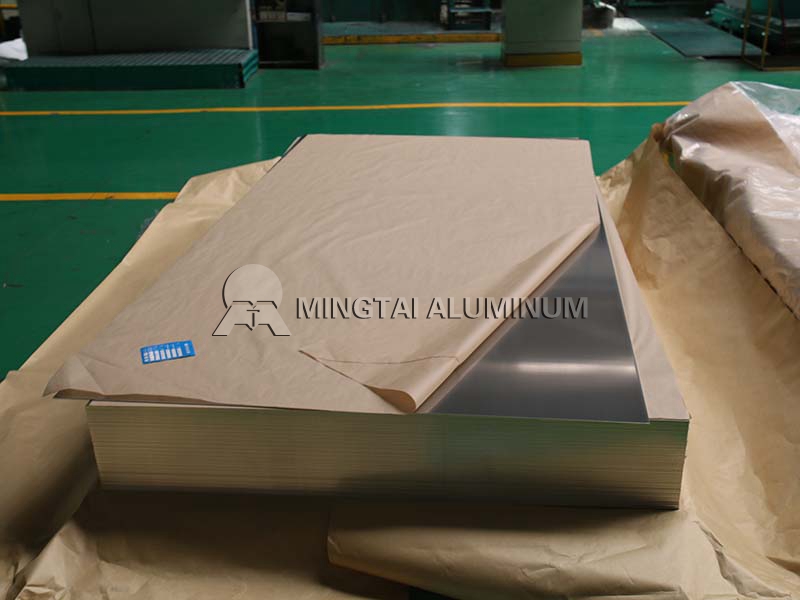 1mm Thick Aluminium Sheet in China Factory
Welcome to Mingtai Aluminum Industry Co.,Ltd ! In fact, our Mingtai Al. is not only a large 1mm aluminum sheet supplier in the international market, but also a professional manufacturer in China. Therefore, our 1mm aluminium sheets are available in complete alloys grades, temper, surface patterns, as well as customizable specs. What's more, there are very preferential factory direct 1mm aluminium sheet prices, and no middleman to make the difference. In addition, we also have fast delivery, stable shipping date, high credit, as well as sweet pre-sale and after-sales service. So here, if you are looking for 1mm aluminum sheets, then don't hesitated to contact us! Just send an e-mail, or leave an online messages, we will quickly offer free and satisfactory price for you! Come on !